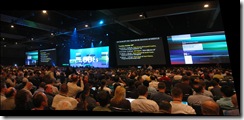 Windows Azure (hmm, hard to pronounce for non-U.S. people, wonder if they ever consider things like that). Ozzie was great, knew his material, delivered well! Wonder what they'll charge once it's ready. Red shoes on the dev team, nice touch.
Best presentation, HANDS DOWN: Surface! Cool technology, excellent demos, super easy SDK. One word: wow! Sorry, no pics. Sure you can find plenty elsewhere.
Biggest surprise for me on a personal level: Meeting Nathan Dunlap from IdentityMine (Hi, Nathan!). Seeing their components demoed, running on HP TouchSmart, no less: fabulous.
Other HP TouchSmart sightings: DevExpress demoing their wares on TouchSmart too. More sightings to come tomorrow after the Windows 7 keynotes.
Handed out about three handfuls of USB drives with TouchSmart development guidelines (to some that might be an SDK, but it really is just a document with some high level guidelines). In other words: yes, you can write your own programs for HP TouchSmart and yes, this will be available for download some time soon (pending a software update that is needed for the IQ 500 series, IQ 800 series should be good to go as-is). If you're not at PDC – sorry, you'll have to wait a little longer to get it. Someone from Microsoft said it was the nicest USB drive he had seen so far.
My OpenSpace session on TouchSmart development happened, sort of. I just didn't get to talk much with anyone completely new to HP TouchSmart with an interest in developing for it. Was nice to see some familiar faces, though (Hi, Mark, in case you read this!)
Check out my photos on Flickr.