You'll see a lot of the HP TouchSmart PC at the Microsoft PDC 2008 starting on Monday. Not only physically, but also as it relates to the software. Can't say any more than that right now.
We'll have two of the HP TouchSmart software developers attending, so if you see them, don't be shy. Please come and say "hi".
If you do, we'll have some stuff to share that should make people who have commented on some of my previous posts a little happier, I think. Again, I can't say any more than that now.
Oh, and we'll have PDC badges to hand out. Here's a sample: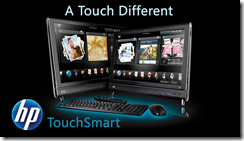 We have five different ones, but only a limited supply.
Oh, and we may do an OpenSpace session, although I'm not sure we'd be in "compliance" with the rules. Let's see.
I'm definitely looking forward to PDC 08!
I'll be wearing my geek tie (recently "upgraded", too). Hope to see you there!