The big day is here and gone. The new TouchSmart PC has been announced to great fanfare on the web, and I'm sure there's more to come. The blogs are full of praise and criticism already, of course. Since I was closely involved with the creation, I'm happy about all the praise and hope that we'll be able to address the criticism over time (especially regarding the software). In other words: there's never enough time to get any piece of software 100% smack-dab perfect for everyone's taste.
I'd like to write a little about things that may not be well known yet. Yes, there is actually limited "dual-touch" in the new software. You can resize the upper row of "tiles" using two fingers. You can scroll using two fingers once you've gone into the "Browser". Due to how the touch screen works you need to make sure your fingers are a certain distance apart to get it to work right. It's "limited" dual-touch because of the natural laws of time and resource constraints on the development team: we ran out of time to do more.
Oh, and nowhere in the HP TouchSmart software do you need to "double tap"/"double click". If a single tap doesn't do it, the touch screen saw too much movement of your finger during the tap and turned it into a move action instead. That's the challenge with using optical technology that sweeps just above the glass. It sees your finger a little before you actually touch the screen. (Think Vincent Cassell in "Ocean's Twelve" or Catherine Zeta-Jones in "Entrapment")
We've had feedback from users in the past, asking for tutorials around the software. I'm personally really happy that we managed to put two tutorials on the system for this new incarnation of HP TouchSmart. And they are available right from the lower row of "tiles". Here's a small taste of how the tutorials were created: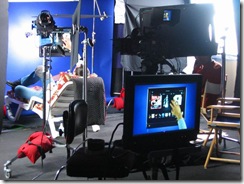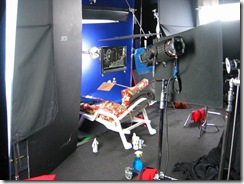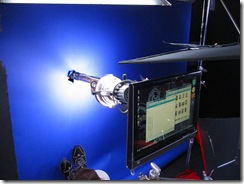 As you may be able to see, there's a lot of work that goes into even such a small thing as creating tutorial videos. I certainly had no idea how involved the process is before I had the chance to help out with the production in a (very) small way. I feel lucky to have worked with and met so many great people. You can find the tutorials here, starting with the basic one in English.
For those of you who read this blog because of the WPF topics I've touched on in the past: yes, central parts of the software were created using WPF. I don't mean to be a fanboy, but I've said it in the past, WPF is powerful stuff. The ability to have separate people working on styling the software while other people work on "business logic" is incredibly valuable. At the end you get full visual fidelity of the design for virtually no added work.
Before I close (and this gets much longer), let me put a question out there for software developers. If it were possible to write software that could end up as "tiles" in the TouchSmart software, would that be interesting to you? If not, why not? Don't take this question as any indication or promise of what the future may hold. I'm just curious about your opinion. Comment away, please.
And for those of you who just stumbled upon this by chance (or dug through the sea of noise out there) and are curious about certain aspects of the new HP TouchSmart PC or the software, I'll try to answer questions within certain limits in the comments as well.
The rest of this post is mostly a collection of links I gathered on the day of the announcement, with a little added commentary for myself. What a splash!
HP TouchSmart PC gets slick upgrade (Slashgear, Promo pics)
HP TouchSmart- bringing touch to the iMac form (jkOnTheRun, Promo pics)
HP TouchSmart PC gets refreshed, unboxed (Gearlive, unboxing [http://www.gearlive.com/gallery/category/C67])
HP's TouchSmart 2 in the wild (Engadget, Promo pics link)
HP Touchsmart IQ506 Brings New Interface, Bigger Screen (Gizmodo, tutorial video embedded, press blurb)
Preview- HP TouchSmart IQ500 Series PC (Hardwarezone Australia, prototype pics, specs)
HP updates TouchSmart with TouchSmart IQ504 and IQ506 PC (Krunker, promo pics, iMac comparison quote)
HP Touchsmart IQ506 and 504 Touch PC (Techfresh, promo pic)
HP launches TouchSmart all-in-one PCs (TechChee, promo pic)
HP Touchsmart IQ506 and 504 Touch PC (HawtGadgets, promo pic)
HP TouchSmart IQ500 hands on PC (Five.TV, promo pic)
HP Launches new touch-screen PC (Nudjit.com, Stage pic, embedded tutorial video, showing the precise touch action needed to avoid accidental "moves")
HP TouchSmart update tackles iMac, Gateway (electronista, Promo pics)
http://www.kickstartnews.com/2008/06/hp-announce-new-pcs-and-laptops.html (Promo pic)
http://www.hp.com/hpinfo/newsroom/press/2008/080610xb.html?mtxs=rss-corp-news (HP press release)
http://blogs.msdn.com/mthree/archive/2008/06/10/touchsmart-2-061008.aspx (MSDN, Promo pics, link to PC Mag article)
http://hpcorp.feedroom.com/?fr_story=1a61d0307fcbf0b5a167dd7e419f65b157125a75&rf=rss (HP video site, fingerprints video)
HP Connecting Your World Keynote – Live (Gizmonews, LiveBlog from the Berlin event, lots of stage pics)
http://blogs.yankeegroup.com/2008/06/10/hp-wants-to-be-touched-but-not-groped/ (Promo pic)
http://vantan.org/archives/2008/06/hp_launches_tou.php (Vanessa Tan, lots of Berlin stage pics, one YouTube video)
http://site-designer.blogspot.com/2008/06/news-hp-targets-wider-market-with-new.html (Mostly a press release rehash)
http://crave.cnet.com/8301-1_105-9963859-1.html?part=rss&subj=Crave (Crave, Promo pics)
http://techdigest.tv/2008/06/hp_unveils_touc.html (One promo pic)
http://hdtvprofessor.com/HDTVAlmanac/?p=705 (Promo pic)
http://stuff.tv/News/HP-slims-down-Touchsmart-allinone/10203/ (One promo pic)
http://news.cnet.com/8301-10784_3-9964073-7.html?part=rss&subj=news (One promo pic, link to gallery of all HP products launched)
http://xzx.g8online.net/2008/06/10/wow-hp-touchsmart-to-redefine-home-computing/ (Promo pics)
http://www.electricpig.co.uk/2008/06/10/hp-touchsmart-pc-causes-finger-frenzy/ (Small promo pic)
http://www.gadgetusers.com/hp-touchsmart-iq506-and-504-touch-pc/ (Promo pic, link to ubergizmo gallery of promo pics)
http://www.livemint.com/2008/06/10142732/HP-targets-wider-market-with-n.html (Mostly press release)
http://www.lowyat.net/v2/latest/touchsmart-to-redefine-home-computing.html (Promo pics, seems there's no original content here)
http://gadgetsaddict.com/hp-touchsmart-pcs/ (Promo pics)
http://www.blog4it.com/index.php/hp-brings-touchscreen-to-pc.html (no pics, very short)
http://www.pcmag.com/article2/0,2817,2319417,00.asp (One small promo pic)
http://www.gottabemobile.com/Introducing+The+New+HP+TouchSmart.aspx (One pic)
http://news.cnet.com/2300-1042_3-6241247-3.html?tag=ne.gall.pg (Picture)
http://news.cnet.com/2300-1042_3-6241247-4.html?tag=ne.gall.pg (Picture)
http://blip.tv/file/979499/ (Richard Walker demo)
http://blip.tv/file/979518/ (Joan Jett ad)
http://blip.tv/file/979452/ (I could defend the problems you see in this video with operating the touch screen, but I think that would be futile, so I'll just leave it. Trust me when I say it takes a little getting used to, but it works pretty well after that. We did lots of usability studies on this puppy.)
http://www.tweakup.dk/readmore/11757/ (In Danish)
http://www.sickofgadgets.com/hp-launches-touchsmart-all-in-one-pcs/ (One promo pic)
http://thedigitallifestyle.com/cs/blogs/ian/archive/2008/06/10/video-of-hp-s-new-touchsmart-system.aspx (Promo pics, good quality video of Richard Walker demoing)
http://thedigitallifestyle.com/cs/blogs/ian/archive/2008/06/10/hp-connecting-your-world-keynote-from-berlin.aspx (Voodoo, event pics)
http://www.notebooks.com/2008/06/10/hp-touchsmart-why-cant-i-have-this-interface-on-my-tablet/ (Seems to be down temporarily)
http://venturebeat.com/2008/06/10/hp-launches-50-plus-consumer-products-in-berlin/ (Promo pics)
http://www.informationweek.com/news/hardware/desktop/showArticle.jhtml?articleID=208403180&subSection=All+Stories (No pics)
http://www.forbes.com/technology/2008/06/10/hp-touchscreen-pc-tech-pers-cx_bc_0609techhp.html (No pics, but look at the headline. Wow.)
http://blog.laptopmag.com/hp-wants-to-bring-multi-touch-to-notebooks (One promo pic, discussion of software for laptops)