A while ago (around December 3, 2009) this blog passed the 100,000 views mark. A milestone for any blog, so I thought I'd show you some of the stats from around that time:

 
Proof that it happened. 100024 views.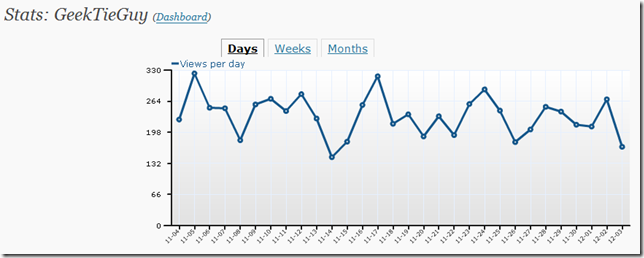 Daily stats leading up to 100000 views.

  
Weekly stats leading up to 100000 views.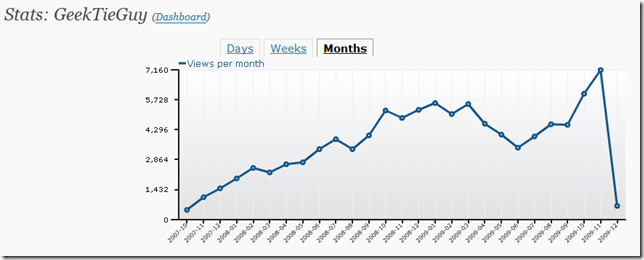 Blog stats all the way from the beginning to 100000 views.
People usually reflect on what got them to 100000 views. I guess for me it's been my involvement with the community site that is connected with the TouchSmart PC. I've posted some things here specifically in response to stuff that happened on the community site. As you can see from the dip above, my blog is not particularly popular just for its own sake. It's usually when something big happens around a release of TouchSmart that people start looking.
Here's a list of the top posts in case you are into that kind of stats: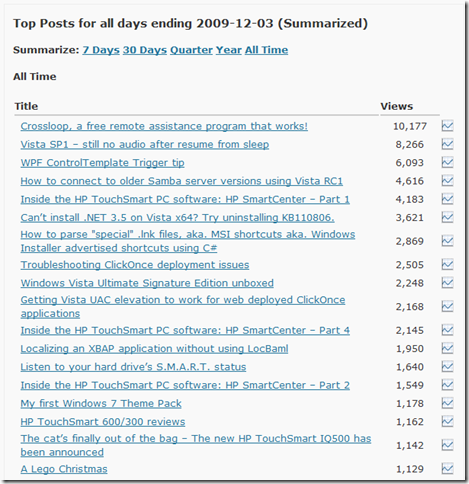 For some reason people like to read about my experience with Crossloop. Whoda thunk?
Anyway, no matter what prompted you to pay a visit – thank you!
And Merry Christmas!