I had almost forgotten about the OLPC give-one-get-one campaign I took the opportunity to participate in last year. Well, the thing finally came today. I wasn't really all that anxious to get it, so it didn't bother me at all that it took a while. I thought it was more important that the real recipients get theirs first.
Anyway, here are a few pictures of a kind of unboxing. It's really more of a series of pictures of the packaging/parts, since I had already unboxed the thing by the time I took these.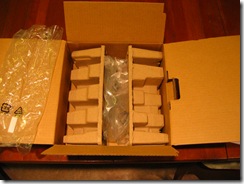 Simple cardboard packaging and plastic bags for protection

All parts arranged on the open box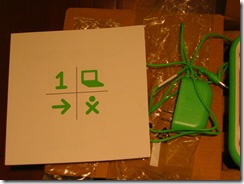 Front of welcome brochure and power brick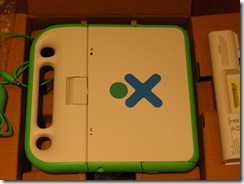 The OLPC itself with the two random color elements that make it "unique"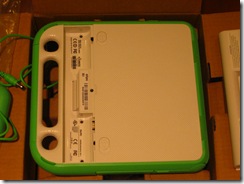 Back of the OLPC, with battery removed

Battery and welcome letter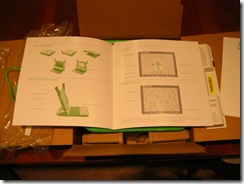 Inside of welcome brochure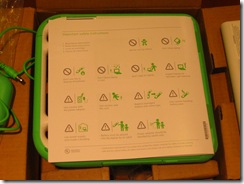 Back of welcome brochure
The battery actually came mostly charged, which was a nice surprise. Turning the laptop on for the first time took me through a simple naming step and then right to the "hub"/home screen. It took a while to get there, but it was really, really simple. No series of screens that ask for all kinds of information, like on regular PCs.
My initial exploration of the software took me around to the Journal, Webcam app (called Recorder), Paint, Measure (seemed to enable you to analyze / show the sound from the microphone), wireless setup, Browser and a few other things. Looks very interesting so far.
Both my kids have expressed interest in fiddling with it. Should be a lot of fun.