I thought some people might enjoy reading a little "behind the scenes" story about the most high-profile piece of software I've been involved with so far. I feel pretty lucky to have had the chance to work on a unique product and to have what I helped work on be so central to the user experience as it is on the HP TouchSmart PC. You may interpret this post as highly egotistical and self-centered, and I suppose it is. But I feel like telling a story. My story. I will go over most of the non-confidential details of the events as I remember them. Since there's a lot to talk about, I've decided to split the story into a mini-series. This is part one. Here we go.
My involvement with the HP TouchSmart PC began in about December of 2005. The decision was made to invest in software that would be best suited for the touchscreen that the unit would have. One of the results is HP SmartCenter as seen here (screenshot from my developer machine, not necessarily representative of the final product):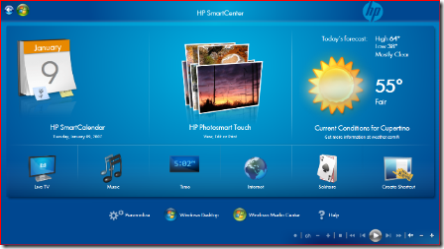 We had tight deadlines. Our final bits would be due in about six months, around June / July 2006. Our product marketing folks decided they wanted the touch application to provide quick access to TV and music as primary features. Windows Media Center was our software of choice for delivering TV and music experiences, and so we made HP SmartCenter run within Windows Media Center. This helped to avoid waiting for Media Center to start up when the user wants to watch TV or listen to music. In other areas the choice created lots of challenges. The initial one was picking a software development technology.
I had just attended PDC05 and was pretty excited about Windows Presentation Foundation (WPF) and the speed I could sense it would give developers and designers for rapidly creating exciting software. I had learned that Media Center in Windows Vista would support WPF, and my recommendation to use it for our apps to make the deadlines while delivering a polished user interface was accepted.
An interface developed in HTML would not have had the same quality (read: look-and-feel). Using the Media Center Markup Language (MCML / SplashFX) was not an option, since that was not going to be revealed in any useful detail until about March 2006, way too late for us to learn how to use it and produce a product.
At PDC05, it had been mentioned that a well-know design company had worked on some XAML styles for the show. We approached them to help out with the application design and asked them to deliver their stuff as working XAML / WPF code. They were pretty excited about the idea and signed on.
—
That's it for now. Check back soon for the next installment of this mini-series, where I'll show you a few screenshots of very early prototypes.
Update (2008-04-30): Parts two, three and four are now posted.