Here are some pictures from a Barnes & Noble store in San Jose, California.
We went to participate in the costume contest. My younger daughter dressed up as Ginny Weasly, hair colored red and all. Alas, she didn't win anything. We thought her costume was pretty creative. Nothing store-bought. All materials found around the house.
Anyway. On with the pics: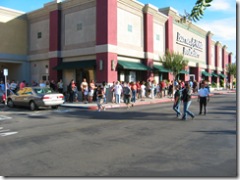 Line around the corner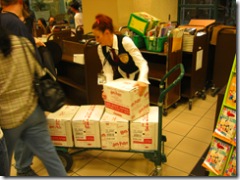 Getting the books from storage to behind the counter


Yes, the line goes all the way to the left side of the picture.
People were standing in line for wristbands that gave you a specific time window after midnight to come back in. When we left the wristbands were for a 5 AM slot. We'll just wait until later in the morning when things will have died down a bit, presumably. Yes, we're hooked too…
It was a perfect time to check out the AT&T store across the street. No line for the iPhone today… I had plenty of time to really check out the iPhone's UI and user interaction. I found several things that bugged me after just a little while. But I also found several things that are pretty cool. Not worth $1200 over 2 years cool, though.
We hung around after the costume contest for a bit, and ran into a family sharing Potter Puppet Pals videos from YouTube on their Apple laptop. My daughter had made friends with one of the girls in that family during the costume contest.
My wife said it was one of the more bizarre things she's experienced. I wouldn't go that far, but it was certainly interesting.