Update 2008-02-18:  It seems like this post is getting a lot of hits, which is kind of odd to me. I suspect it might be because there's a mention of the phrase "key sticker" in here, so that makes people think I'm publishing my activation key. I'm not. The key is digitally erased with a bunch of black pixels. There's no key here.
————————–
Call me a fanboy all you want. I went out to a local Best Buy this morning and got myself a copy of the Vista Ultimate Signature Edition. I figure Vista put bread on my table, so I need to give back a little. And no way am I going to do that without getting something a little out of the ordinary.
I got to Best Buy a little after ten and checked the shelves. No Signature Editions to be found. Luckily I went to the service desk to ask, and just as I was doing so, they brought out the four boxes they had at that store. Two got put aside by (for?) the employees, and I grabbed one of the remaining two. Talk about good timing. I think I also picked a good store to go to. It's fairly new and people don't seem to know it's there, so there was very little "competition".
Here are some unboxing pictures for your viewing pleasure: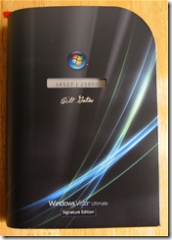 Box front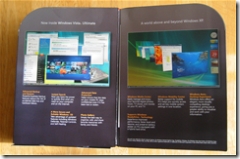 Open back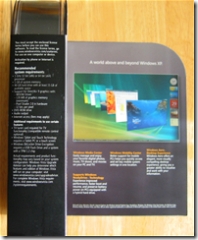 System requirements on the side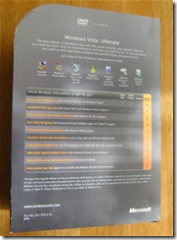 Feature comparison list on the back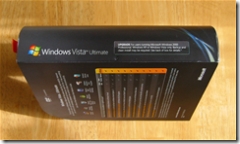 Other side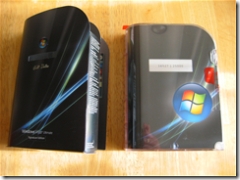 Outside cardboard box and inside plastic box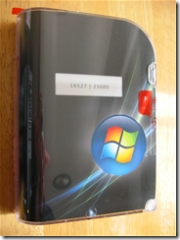 Inside plastic box front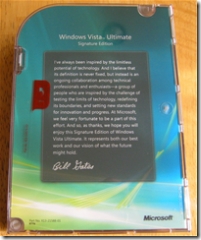 Inside plastic box back with Bill Gates comments

Plastic box side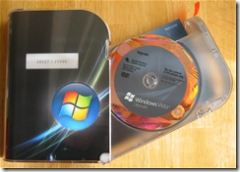 Opened plastic box with DVD / media holder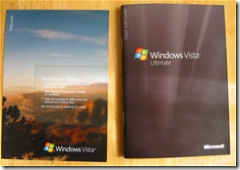 Leaflets inside media holder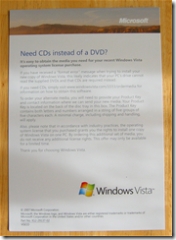 CD order information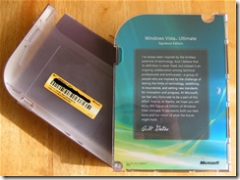 Back of media holder with key sticker