Doing some research for an illustration I wanted to post on this blog, I typed the following search terms into Google: aluminum can volume. What do you think a search like this would bring you? Try it out yourself. You'll be as surprised as I was.
It's this: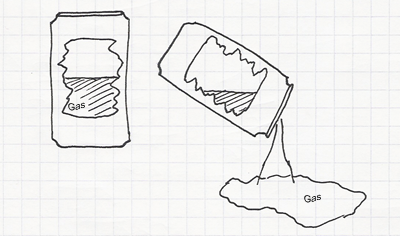 Almost every result talks about how much energy is wasted when you don't recycle a soda can! It's the equivalent of filling the can halfway with gas and pouring it out. If that idea won't make you think more about recycling aluminum cans, maybe this calculation will:
Half a soda can is 6 oz. A gallon has 128 oz. So 21.333 empty cans thrown away equal a gallon of gas wasted. My car has a tank capacity of about 15 gallons (I think). So it would take 320 non-recycled cans for me to waste a tank full of gas. My car can travel about 300 miles on a tank of gas. I certainly don't want to waste energy like that. Especially energy coming from our dwindling oil reserves. We'll need that oil for lots of other things besides burning it for transportation. For example, most plastics are based on oil, and I wonder how many cool and wonderful gadgets and gizmos (needing plastic enclosures and parts) we won't be able to produce in the future if we run out of oil. Pardon the digression.
Anyway, now I've used my illustration and even given it a little surprising Google story to go with it.