It occurred to me that my CardSharkV page didn't have any screenshots to show how the program works or what it looks like. That has now been remedied. Here's the central part of it (grouping the photos):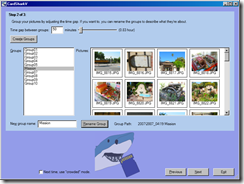 So head on over to the CardSharkV page and take a look! I think you might find the program useful, if you like keeping your digital photos organized right in the file system and not just in some photo management program.
If you have any comments on the program, I'd like to hear them.